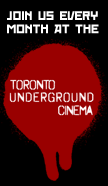 Greetings and welcome to the Official Repo! Shadow Cats website. We are Toronto, Canada's shadow cast for Repo! The Genetic Opera. We perform every three months at The Toronto Underground Cinema.






NEXT SHOW:

FRIDAY, MAY 11, 2012 @ 9:30PM
186 Spadina Avenue, Basement Level (just north of Queen Street W).
Tickets: $8.






Order generic estradiol no prescription. Buy cheap generic differin online without rx. Purchase cheap sildenafil online no prescription.






Copyright © Repo! Shadow Cats.
Prettified for the web by Pretty Poopie.