With only two days left until our next performance, we'd like to show you some teaser shots from our rehearsals. Enjoy!
Here is our new Thankless Job Victim, Caitlin. Mandi, who played the victim previously will now have the pleasure of being the predator this time around as Repo Man.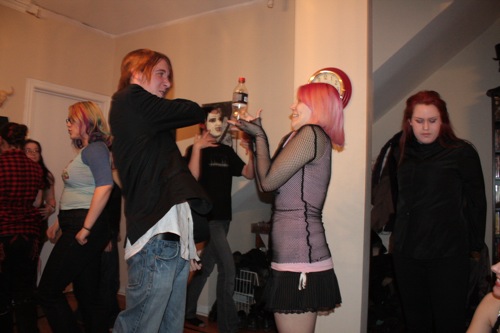 "Decaf?"
"I will shoot you in the face!"
Edward gets pretty scary when he's all mad and Luigi-like. I think Jenicka actually freaked out when he whipped the Coca Cola bottle from her trembling hands. (Jenicka is also our new Single Mom. She has nice boobies, we guarantee ;P) 
Also, note how crowded and small this room is. This is Jaws' living room where we had been holding some extra rehearsals outside of our Friday ones at the dance studio. Yes, it is incredibly tiny… but you know what? We made it work, and you should too!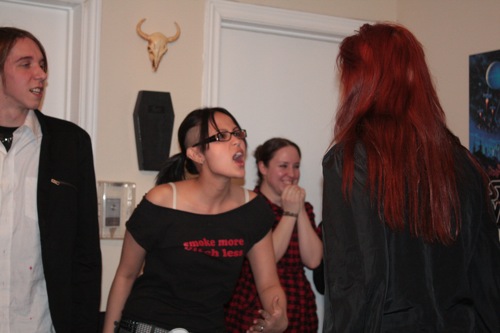 I added more bitch to the Amber role. Watch out, Blind Mag!
As if the chemistry between Jaws and Mandi wasn't perfect enough, his chemistry with Edward was even more awesome! Girls (and boys!) be prepared to crush on them both… together… at the same time.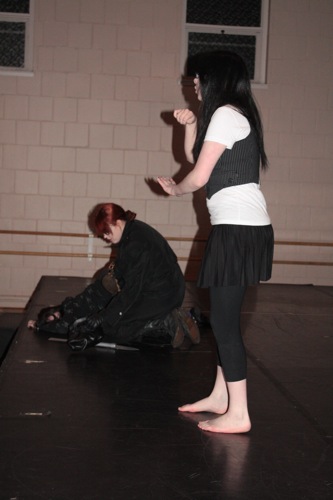 Our new Shilo, Laura really spiced up her role. She's also going to have some freakishly accurate costumes apparently. We're going to see them for the first time tomorrow during our dress rehearsal.